Baptism at Bull Run is a game recreating the Battle of First Bull Run (or First Manassas). Fought on July 21, 1861, First Bull Run was the first major engagement of the American Civil War. Despite opening the engagement with a successful flank march against two smaller Confederate armies, which had only just combined, the Union army would end the day in a disastrous rout back to Washington, D.C.
The design of Baptism at Bull Run is based on the highly regarded Bonaparte at Marengo (Simmons Games). In addition to modifying elements of its Napoleonic predecessor to reflect the character of the Civil War battle, Baptism at Bull Run expands on the earlier game's command rules with the addition of a simple card play system that varies each player's command points from turn to turn.
The game is played on a large map of the battlefield. The military units that participated (or could have participated) in the actual battle are represented by 72 pieces, with many additional pieces provided to represent units reduced by casualties or reorganized into smaller or larger formations.
The rules for Baptism at Bull Run are downloadable as a portable document format file (.pdf):
Visit Downloads to access all of the other available supplements, including the CyberBoard game box and VASSAL module.
Baptism at Bull Run

Do-It-Yourself (DIY) Kit
A Baptism at Bull Run do-it-yourself (DIY) kit is now available for download upon request. The DIY kit contains the following components bundled in a single compressed file (.zip): the map, a label sheet for units, a label sheet for command cards, the game rules, a game reference sheet, and a historical orders of battle reference. All components are supplied in the portable document format file (.pdf).
To request a kit, please contact me at the e-mail address listed below. Thank you and good gaming!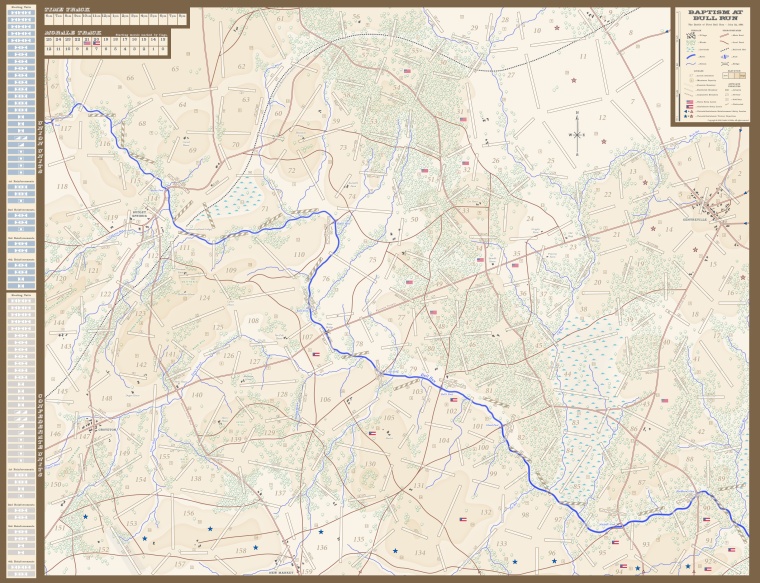 Last Updated: 2015-10-03 16:40 EDT