Playtest Game
MUIN

: A Confederate Victory

This sample game (entitled: MUIN) demonstrates a Confederate victory. It was played by Garry Haggerty (Union) and Will Green (Confederate). Both Garry and Will have generously annotated their moves—usually written in the 1st person perspective—in order to give a little insight into what they each attempted to accomplish during their respective turns.

The CyberBoard referee game file for MUIN can be downloaded below (by readers who wish to review the game in detail):

In the interest of full disclosure, Will approached this game as a veteran playtester, while Garry took on the role of both playtester and developer during this game. (Gentlemen: Thank you both for taking the time and effort to play, as well as annotate, this game.)

A slideshow that reviews the entire game is available below.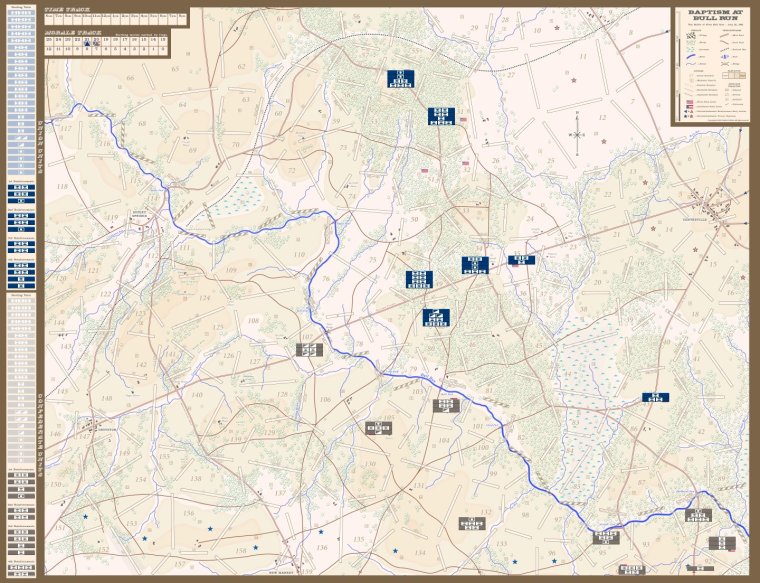 Union Setup
MUIN was a playtest of a deliberately extreme Union offensive strategy, to determine if such a strategy would prove to be an undesirable "ideal" US plan. As another game with the same goal (NION) played by Brian R. Mullin and Andy Wright had just started, László asked me to play MUIN parallel to NION—my deployment and operations would follow NION as far as possible.
The Union plan, devised for NION by Brian R. Mullin, commits almost all Union starting strength to the flanking action by the Union right, while minimal forces on the Union left screen Centreville. Any mobilized Union reinforcements will be restricted to countering Confederate moves toward their objectives near Centreville.
I fully expected a CSA offensive against Centreville to develop. My opponent, Will Green, plays an aggressive CSA game and I thought that starting only two Union units in 43 would be an irresistible provocation for such a response. I anticipated MUIN would play out as each army's strong right wing rushing its opponent's weak left wing, victory going to the side that most nimbly allocated its commands between the two "fronts." (My prediction was wrong in every operational detail. The only thing I got right was that Will would play an aggressive game.)
Confederate Setup
On this day I decided that, as the Confederate player, I wanted to focus on: Slowing the process of the Union flanking move at Sudley Springs, holding the Stone Bridge, and harassing the center, (if possible), while demonstrating, or possibly pushing with the Rebel right wing.
To that end, I wanted to make sure to have units, in place, allowing me to do so. Two 2-stength cavalry at 107, more than likely was overkill, yet having the option to break those 2's into two 1-strength cavalry units might open the game up in a glorious way. The random placement in 105 couldn't have been any better! This placement will allow the Stone Bridge to be fortified in a very strong manner.
---
---
---
---
---
---
---
---
---
---
---
---
Union Aftermath
The end... or so we thought. In actual play, we inadvertently reduced the Union morale by two for the CSA's winning assault against my 1-strength cavalry in 141/140 and demoralized the Union army. However, as the cavalry was eliminated by the assault, we shouldn't have applied the -1 retreat penalty. So the 4pm Union demoralization was an error, though a trivial one since the Union army's fate would've been sealed at 5pm anyway.
The CSA column march into 127, isolating my longsuffering units in 128, was utterly demoralizing—and I mean that without reference to the morale track. I'm not sure why I passed up the obvious move to secure 127 at 4pm with a cavalry march from 125. If I'd thought 127 was too "hot" for the two CSA units in 126 to enter alone, I clearly failed to consider the roads that still knit the CSA center together—a peculiar oversight given the fact I was fighting Will "Column March" Green.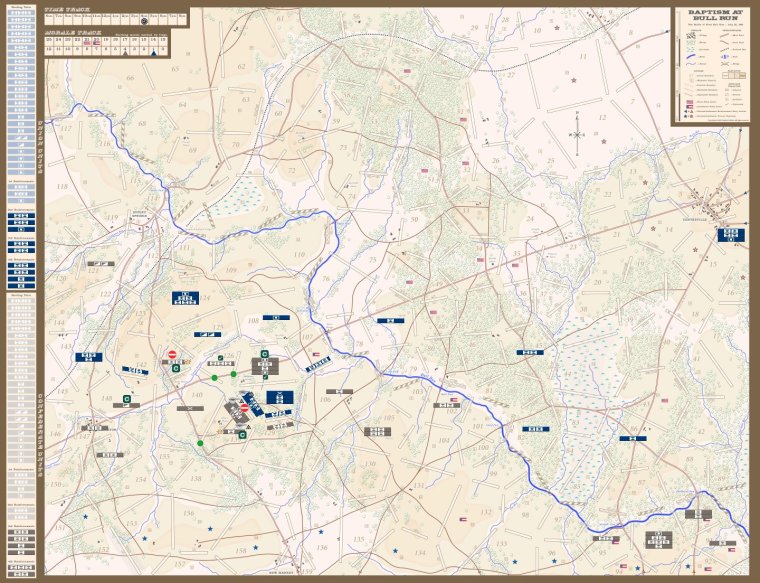 WATCH SLIDESHOW
Last Updated: 2009-01-18 18:45 EST