Playtest Game
NION

: A Union Victory

This sample game (entitled: NION) demonstrates a Union victory. It was played by Brian R. Mullin (Union) and Andy Wright (Confederate). Both Brian and Andy have generously annotated their moves—usually written in the 1st person perspective—in order to give a little insight into what they each attempted to accomplish during their respective turns.

Additionally, NION was played almost concurrently with another game (MUIN) that used the same Union "opening", but ended rather differently with a Confederate victory.

The CyberBoard referee game file for NION can be downloaded below (by readers who wish to review the game in detail):

In the interest of full disclosure, Andy approached this game as a veteran playtester, while Brian took on the role of both playtester and developer during this game. (Gentlemen: Thank you both for taking the time and effort to play, as well as annotate, this game.)

A slideshow that reviews the entire game is available below.
Union Setup
Since this is a playtest game, I really want to push an extreme strategy to see how the scenario holds up. Instead of a controlled and cautious advance, I plan to throw the Union forces towards Groveton and New Market with reckless abandon. Success will hinge solely on keeping extreme pressure on the Confederate forces in the southwest in order to compel most of the CSA maneuvers to be reactive out of necessity. If that does not happen, the Union will surely lose.
The CSA forces are concentrated south of Bull Run on the eastern side of the map. If the Union positions a minimal defense near the river, it should slow but not stop a CSA offensive towards Centreville. My plan is to immediately reinforce Centreville multiple times in order to prevent the town's otherwise certain capture. Six units barricaded in the town should make the siege very difficult. These reinforcements will be my only effort at any serious defense.
For my attack, I want to simultaneously pressure the crossings at Sudley and at the center of the map. The Confederate deployments in the west are very thin and with so many crossings to cover, hopefully I can break through. I overload the far north deployment aimed at Sudley. In past games, I have found that committing just a few units at Sudley Ford lacked the threat level I wish to achieve. I want to draw enemy units away from my primary target: Poplar Ford at 110.
Confederate Setup
With my Confederate setup, I am okay to be relatively weak in the southeast. The chance of a major Union effort there is small, while a Confederate push (or bluff) might force a stronger than necessary Union commitment to that flank. With a larger force in the southeast, I might have considered waging the battle north of the Run, but over three or so plays, I haven't seen that approach executed successfully.
On the other hand, with the overall burden of attack on the Union, and the natural line of defense of Bull Run, being strong farther north has some real upsides. As will be seen, however, my complacency with this set up will not be justified.
---
---
---
---
---
---
---
---
---
---
---
---
---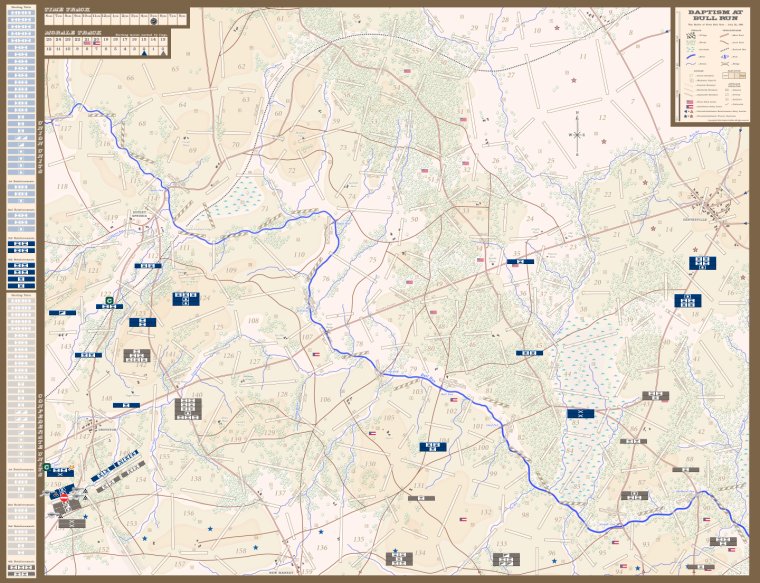 WATCH SLIDESHOW
Released: 2009-01-18 18:45 EST